20/50 Vision: Tomorrow's Habitat
19th May - 24th June 2017
Andrew Burns Colwill presents a series of paintings and small sculptures that examine the paths we have chosen to take and raise this question: what are the consequences of these choices on our planet, ourselves and our children?
"The show title, 20/50 vision, is a play on the term 20/20 vision and how my life experience has given me a slightly warped perspective of the world.
20/50 vision for me has 2 aspects; firstly a point of view that sometimes makes people a little uncomfortable but offers a wider and alternative perspective to the norm, and secondly my interpretation of how we as a species may be faring socially and economically by the year 2050."
All works are produced with acrylics, brushes, rollers, rags, fingers etc onto canvas and board with not a spray can in sight.
Several of the originals will also be available as high-quality giclee prints.
Image (right) is a section of "Polar Bear" by Andrew Burns Colwill.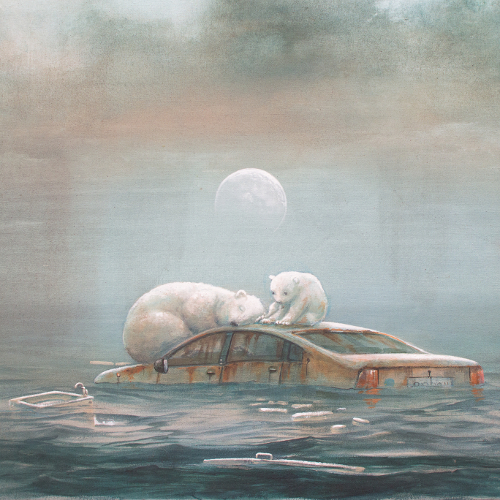 In the Press
Click here  to read an interview with Steve Wright at Bristol 24/7.
Click here  for a write-up on the show in The Bristol Magazine.
Click here  for a write-up on the show in Bristol Living Magazine.