Jim Starr
Jim Starr has been screen-printing for 15 years and has exhibited in upwards of 70 group shows and 7 solo shows. His work has gone under the hammer alongside some of the world's most celebrated contemporary artists at auctioneers Dreweatt's Urban Art Sales (at Paintworks, Bristol, and Selfridges, London), and has been exhibited solo at London's Dalston Superstore. He has also shown at The Pall Mall Deposit, London, The Coningsby Gallery, London and at Bristol's 2 Degrees Gallery, the Wilder Street Gallery and King of Paint.
Jim's use of pop culture and pin-up imagery is guaranteed to inspire anyone who loves the louche and the lowbrow. His work fuels the spirit and strikes a chord in the soul, continuing to resonate long after the first glance.
After an initial brush with spray stencilling in the mid-90s, Jim's eye was drawn to screen printing. Robert Rauschenberg was one of many painter/printmakers of the 1950s and 60s New York scene who influenced Jim's shift in focus. He also kept a keen eye on newer painters from the 80s set, Jean-Michel Basquait and Keith Haring.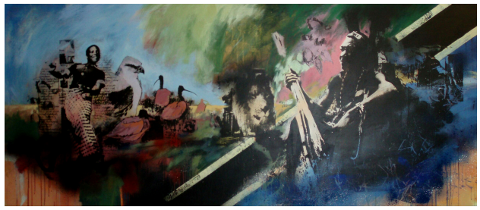 Tanzanian Chief purchased by Kasabian front-man Sergio (Serge) Pizzorno
Using a mixture of original screen printed material, his own photography, freehand drawings and found collage, Jim creates unique and sometimes complex hand-pulled prints, with no two turning out the same. For Jim there is no such thing as an average print. They can vary from five layers to forty and can take weeks or even months to complete. Having printed on denim, silk, surfboards and many other surfaces, Jim's bigger images are printed onto canvas and reworked and refined using acrylics and spray paint.
His current work reveals his borderline obsession with timeless and universal icons. These easy-on-the-eye images skilfully offer an entry point into a complex world which offers much more than first appears. Jim's love of travel and his insatiable appetite for all that is lo-fi flows through his images. East meets West, white trash snuggles up with the glitterati, good battles evil and much more in-between.
As well as numerous solo and group shows in London and Bristol, Jim has painted and drawn on location worldwide. His work also appears on T-shirts, clothing, club flyers, records and canvases.
(by Catherine McFarland/James Sandercock 2010/2012)